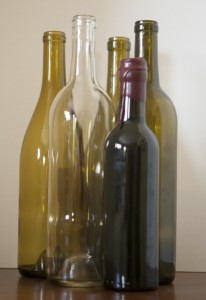 It all starts with a bottle of wine.  Unless you are the winemaker.  Since a wine bottle may represent months to several years in their process of making that bottle of wine.  For the consumer, it's  knowing what bottle of wine do I want to have with a special meal, gift for a friend, an afternoon of relaxation or any other wine purchase requirement.  The big question facing wine purchasers when shopping for that bottle of wine, "What should I buy?".  There are so many labels, varieties, places, countries that wine comes from to be on the store shelf.  We all have made the mistake of buying a pretty label to be disappointed by the results.  Wine is like art, each of us are attracted to different aspects of favor.  We narrow our choices to what we like, white vs. red, sweet vs. dry, or based on the type of food that we will have with that bottle of wine.
Tasting the wine is a good start to learn about these bottles and how they suit your taste.  Wineries offer wine tasting at their locations and purchasing the wine at the time may eliminate the tasting fee.  If the wineries are not located close to you, then visit a local wine shop.  Wine shops usually have a tasting bar for specific tastings topics and will consult with you regarding your preferences.  Even local grocery stores may have someone in their wine department for helpful advice.  Maybe even a taste of wine from a promotional distributor.
Ratings are another good means to learn about a bottle of wine.  Looking for wine ratings on the bottle shelf label can be helpful.  Experts in the wine industry rate wines which the shops display with the wines.  Wine Spectator, Wine Enthusiast, Wine Advocate, Robert  Parker,…  Also medal winners from well established competitions are guidelines that you can follow.  Winery Websites will expound the accolades they receive on their bottles of wine.  When shopping, scan the bottle label and check with your smart phone apps.
Nothing is better than to have that direct experience of the wine you are going to purchase by sipping to taste the flavors.  This gives you the personal knowledge that you enjoy the art in the bottle that the winemaker has presented for your pleasure.